Tim Humphreys is the voice of the Devil in 'i luv spam'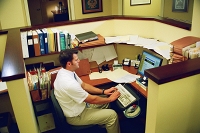 In Michael Korican's short film 'i luv spam' Tim Humphreys provides the voice for an animated Devil. The two have collaborated on three films in the last two years.
Mr. Humphreys has been involved in amateur theatre since high school in Calgary and Toronto, mainly performing small character roles. During his career at UVic, he hosted, wrote and directed a monthly one-hour cable TV program about the university, its faculty, student and alumni activities.
Currently he is semi-retired and enjoys many hours working with his beehives and producing a number of newsletters for volunteer groups.
He has been the owner of a public relations company with numerous clients in the government and the private sector. Previously he was employed in the Community Relations Department at the University of Victoria for seven years.
Before that he worked at a number of newspapers and wrote for business periodicals across Canada, in Winnipeg, Calgary, Edmonton, and Vancouver and studied history, political science and international relations at UBC.
Mr. Humphreys has worked with many volunteer organizations in Victoria assisting in fund-raising and administration, particularly in the fields of conservation and multi-culturalism.